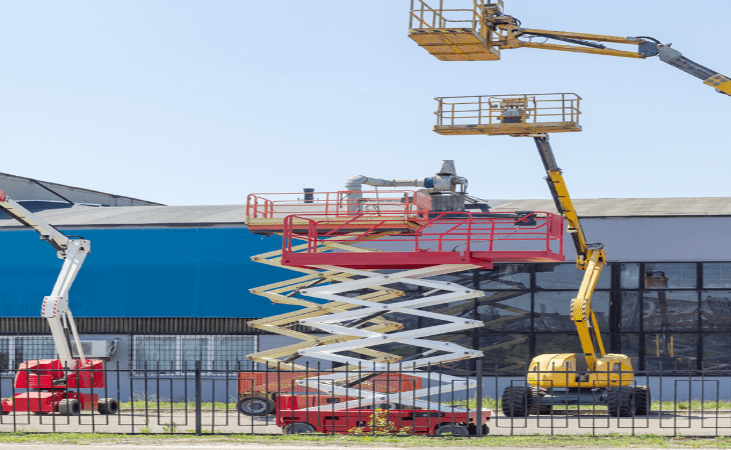 Posted by ezyuphireweb
On March 7, 2023
0
Access equipment like scissor lifts, telescopic boom lifts, and forklifts, are perfect for allowing workers to access work areas that are too high to reach.
Having the right machine on site can help you save valuable time, reduce labour costs, increase efficiency, and ensure the safety of your workers.
To have a piece of access equipment on your job site, you either have to buy or rent the equipment and many savvy contractors prefer to rent equipment instead.
But is this a better cost-effective option? Why is it better to rent rather than buy equipment? What are the benefits renting offers?
This is what we will be looking at in today's article so that you can make a more informed decision.
Benefits of Hiring Access Equipment
Cost Effective Option
Choosing to rent a piece of access equipment is a lot cheaper than buying one.
New equipment purchases can cost tens of thousands of dollars, which is more than you may ever spend on renting equipment you need.
Asides from the purchase price, you also have to worry about other costs.
Such costs include storage and operating costs, which can run into thousands of dollars each year.
Unless you make use of the access equipment regularly, you may go years without earning back the money you spent purchasing it.
Renting a scissor lift, for example, can cost $90 per day or around $350 per week, and you will not have to bother about additional costs.
Ownership costs are a lot higher compared to equipment rental payments.
Access to a Wider Range of Equipment
When you hire access equipment, you can select from a wide range of machines.
You can choose equipment by its models or specifications. You have more freedom to go for the exact piece of equipment or machine you need than you would if you owned it.
Also, you can change your mind at any time, while renting different types of equipment for different construction projects, especially if it's a short-term job.
This is unlike when you decide to purchase one instead.
As we noted above, access equipment can be quite expensive, meaning you only get to consider buying one at a time, and it may not be good enough to help accomplish all your tasks.
Eliminate Storage Space Concerns
Another reason to hire rather than buy construction equipment is that you do not have to think about where to store the equipment when you are done with it.
These machines are heavy equipment that requires a suitable place for long-term storage, as they cannot be stored just anywhere.
You may also have other machines already occupying your storage space.
When you rent, the equipment will be returned to the rental company at the end of the task, leaving you with nothing to worry about.
No Maintenance Hassle When You Rent Equipment
Maintaining a piece of access equipment is not only expensive but can take a lot of work.
There are so many things you would need to do to ensure that the machine is running smoothly at all times, not to mention high maintenance costs.
This is only something you have to face with equipment ownership.
Leasing equipment frees you from so many responsibilities, including maintenance.
It is the equipment rental company that makes sure the access equipment is in the best shape at all times, so you can use it to work right away.
Equipment Rental Offers Flexibility
Flexibility is another obvious advantage you enjoy when you choose to go for rental equipment.
This means you can rent a piece of equipment for as long as you choose. It could be short-term or long-term. You can rent for a day or more than three months.
Depreciating Asset
Access equipment is a depreciating asset that will lose value in a few years. This means if you want to sell the machine after some time, you may have to do so at a depreciated rate.
The resale value could be quite less than you bought it for. This would not even take into account the cost of maintenance.
Buy or Rent? Choose Smart with Ezyup Hire
Renting access equipment offers a lot more benefits than buying one.
You get to save money and you are faced with a lot of options each time you want to rent heavy equipment.
Also, you do not need to worry about how to store the machines or worry about how to maintain them.
This does not mean there are no advantages to buying a piece of equipment, but for the average construction business, renting equipment is the best option for you.
But if you prefer to have your own equipment, you can consider getting used equipment rather than new equipment purchase.
If you are looking to rent access equipment within and around Adelaide for your current construction project or other projects, you should visit us at Ezyup Hire.
We are a South Australian family-owned rental company with the best access equipment for hire. Whether you need a scissor lift or boom lift, we have just the right equipment.
Our rental fees are quite competitive with no hidden rental expenses. We constantly service and maintain our equipment, so that they are safe and ready to use at any time.
We service all sectors like the construction industry, manufacturing, and retail, and our fleet management is superb.
Simply contact us to confirm equipment availability or reach out to us for a free quote today to begin.