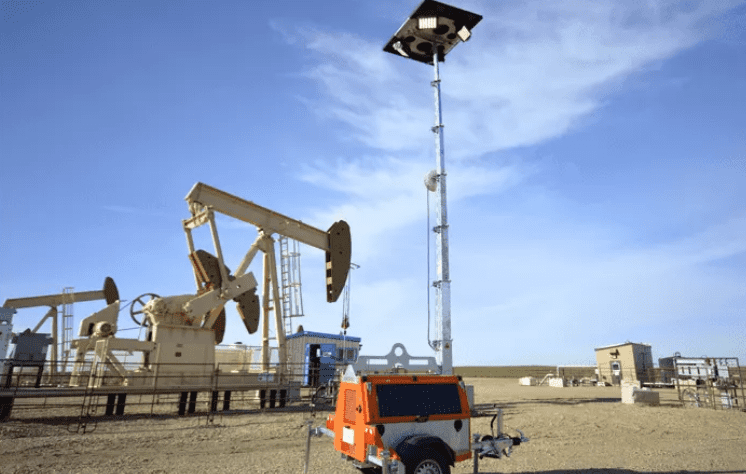 Posted by ezyuphireweb
On March 7, 2023
0
Doing any kind of work outdoors almost always means working nights as soon as the sun goes down.
This may mean losing valuable hours, forcing the task or project to go on longer than scheduled.
The solution to this common problem is to have lights around your work site. But not just any type of light will do. You need lighting with high intensity that can stay on for the required hours.
Basically, what you need is a light tower.
What Is a Light Tower?
A light tower or a lighting tower is a piece of mobile equipment that provides light for use outdoors at night.
It has a mast, which carries high-wattage bulbs that can shine bright enough to illuminate a large area, no matter how dark it may be.
Light towers may be powered by battery packs, solar power, or an internal combustion engine that uses diesel or petrol, depending on the type.
How Do Light Towers Work?
As noted above, light towers are mobile, which means they can be moved around from one position to another.
Their portable nature is one of the reasons why they are used outdoors, as they can be taken to and used in areas where they may not be connected to an immediate source of electricity.
This equipment is composed of majorly three parts:
The base

The mast

The lamps
The Base
The base of the tower is equipped with a power generator or engine that supplies power to the lights above. The engine may be diesel or petrol-powered.
It may also make employ solar panels that capture energy from the sun to recharge batteries that can be stored for later.
The base is where the lights are controlled and it may also have wheels for moving the tower about.
The Mast
The mast is the most essential part of the light tower. It is usually high enough to allow the lights to shine without being obstructed by anything.
In some models, the mast may be collapsible, so it does not take up much space when stored.
The lamps are what provide the bright lights. They are powered by electricity from the engine in the tower base.
The kind of bulbs used in these electric lamps have a high wattage and can shine brilliantly without any shadows.
The lights may also radiate heat and noise, depending on the kind used.
Where are Lighting Towers Most Used?
Light towers are used anywhere bright lights are needed.
It is used in construction sites to provide light for working at night

It is used on movie sets for late-night filming

It is used in stadiums for sporting events

It is used during road repairs and maintenance work

It is used in concerts and other outdoor entertainment venues at night, and so on.
Whenever you require a source of bright illumination for outdoor activities or in places without electricity, a lighting tower is a very thing you need.
Industrial Signal Lights
These kinds of lights are distinct from similar elevated lights such as industrial signal lights or tower lights.
How do Tower Lights Work?
These serve a cautionary purpose and are known by other names including, signal tower lights, indicator lights, warning lights, or stack lights.
These signal tower lights may also be deployed on skyscrapers to give a warning to low-flying aircraft.
How to Choose the Right Light Tower
If you need a light tower for your project, there are several factors you have to consider before getting one for it, so you can make the right decision.
Area of Coverage
The first thing to consider is the area where you will be using the light tower.
The size of the area should determine the height of the mast and the intensity of the led lamps, white light, or bulbs you should use.
A wide area, such as a large construction site, will need towers with very high masts and high-wattage bulbs for proper coverage.
Mobility
Some light towers are easier to move about than others.
This is a very important factor to note, depending on how you will be using it on the site and how many light towers you will be deploying.
Power Source
The kind of power source the tower has is also something you should keep in mind, as it adds to the cost of operation.
Light towers with an internal combustion engine require diesel or petrol to work.
Depending on other factors, like the wattage of bulbs used and the model of the engine, more or less fuel may be consumed.
Solar-powered light towers are eco-friendly but may have shorter running hours, compared to the units that are fuel-powered.
Buy or Rent
One other thing to consider is whether to buy or rent the light tower.
Buying a light tower gives you complete freedom to use it as you like. But, unless you are using it frequently each year, the light tower may become a liability.
That's because you would need to maintain it even when it's not in use.
That is why the smarter option for occasional use is to rent a light tower.
Renting a light tower allows you to use it for any purpose, without having to bother about maintenance or storage. This will save you both money and stress.
Conclusion
Lighting towers are a very essential pieces of equipment that you may need from time to time.
It improves safety around your workplace and also allows you to stop valuable hours from being lost.
With a light tower, you can be sure of completing your Adelaide projects on schedule.
If you are looking for the perfect place to rent a light tower in Adelaide, then we have just what you need here at Ezyup Hire.
We are an Australian-based family-owned equipment rental business and our lighting towers are the best you will find in South Australia and the Adelaide area.
Our lighting towers feature the 400 Series Engines, which use less fuel and have improved levels of sound emissions.
They are also Tier 3 emissions compliant as they have reduced emissions output and deliver more power.
The lighting towers we stock for rentals are also road-licensed and can be transported in different convenient ways.
Reach out to us today to make a booking or to get a quote for our best rates.