Posted by ezyuphireweb
On March 7, 2023
0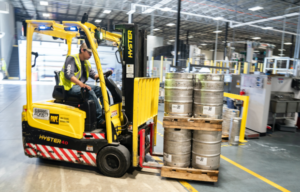 When you need to rent a forklift for work in Adelaide, it's important that you get the right kind for the job at hand. There are different forklift types designed for different kinds of work activities. Getting the right forklift guarantees that you are able to carry out the assignment properly.
What Is a Rough Terrain Forklift?
A rough terrain forklift, also known as an all-terrain forklift, is any forklift that is designed for uneven ground or rugged terrains such as construction sites and other outdoor areas. This kind of forklift has increased ground clearance, making it suitable for areas where a normal forklift would have trouble navigating, such as muddy ground.
Types of Rough Terrain Forklifts
The types of forklifts that belong to the rough terrain forklift family include counterbalance forklifts, straight mast forklifts, and telehandlers. All of these variations of a forklift have different functions but they all share the same basic characteristics of a rough terrain lift.
Key Features of Rough Terrain Forklifts:
Internal combustion engine powered by diesel fuel or petrol

Sturdy tires that are filled with air

High lift capacity

Increased ground clearance

Four-wheel and two-wheel drive capabilities
Where Can Rough Terrain Forklifts Be Used?
Rough terrain forklifts are mostly used for outdoor activities. Straight mast forklifts are usually used in places like construction grounds to lift building materials from the ground to the upper floor of a building. They can also be used for transporting heavy loads from one place to another. All-terrain forklifts like telehandlers are used for maintenance work.
EzyUp Hire All-Terrain Forklifts Rent
Do you need an all-terrain forklift for your next Adelaide project? Then come to us at EzyUp Hire where you can rent the right machine to get the work done. We are an Adelaide access equipment hire company that services the whole of South Australia. We stock several forklift types with different specifications and functions. Whether you need a forklift for road construction, storage, or maintenance work, we have just the one you require. All our forklifts are well-maintained and ready to use right away. We also save you the stress of transporting the forklifts as we handle the to-and-fro to your job site. Explore our website to book any type of all-terrain forklift that we have for hire.