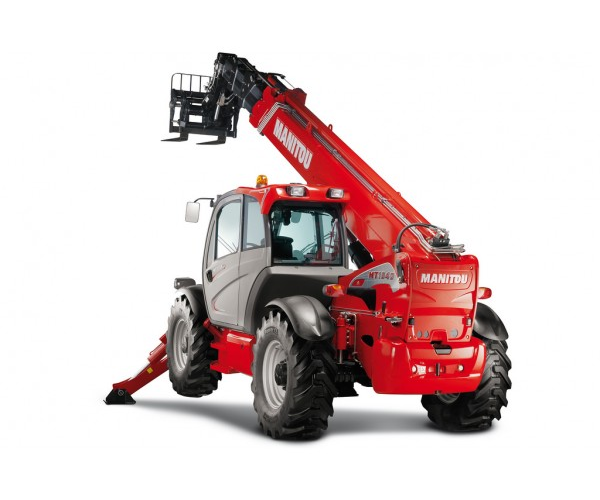 Posted by ezyuphireweb
On March 7, 2023
0
A telehandler, also known as a telescopic handler, is a hand-driven machine known for its versatility in performing different tasks.
You can use it around the yard, on construction sites, and at warehouses. This machine is especially useful when transporting or lifting loads over rough terrain.
The Manitou Telehandler is a good example of a telehandler that you can hire in Adelaide on ezyuphire.
Telehandlers can also help in the agricultural sector by moving objects to places that traditional forklifts can't reach.
At the end of this piece, you will find answers to some commonly asked questions about a telehandler, which is alternatively known as a boom lift.
Description of a Telehandler
Because a telehandler is known for its versatility, it doubles as a crane and forklift.
A telehandler is fitted with four wheels to give it balance, and there's a big blade at the front that looks like a snow plough.
This blade can push really high, allowing you to fit more grains in the shed.
Also, there's a bucket on the front that can hold about three tons, and the machine generally has a lifting capacity of about four tons.
The four wheels on the telehandler make for easy maneuverability in tight spaces.
Telehandlers come in three variants: front-wheel drive, crab-steering, and four-wheel drive (4WD). Below are other features of telehandlers:
Most telehandlers have a lift capacity of 3000 to 11000 lbs.

Although lift capacity differs among different attachments, the bucket can hold up to 6000 lbs.

This versatile lifting machine uses diesel as fuel.

They have large tires suited for maneuvering on rough terrain.

They're adapted to four-wheel drive and four-wheel steering.

Telehandlers are capable of reaching heights ranging from 20 to 50 feet.
What Attachments can a Telehandler Hold?
The ability of a telehandler to hold a range of attachments is the key to its versatility because different attachments are designed for different tasks.
For instance, there are attachments that carry pallet forks, lift heavy loads, carry soil buckets, and pick wood chips and tree branches.
The following are the different attachments you can find on a telehandler.
Booms

Buckets

Crane jib attachments

Fork tines

Swivel hooks

Spreader bars

Concrete hoppers

Hay bale handler

Dirt and snow blades
Different Applications of Telehandlers
Owing to their adaptable nature, telehandlers have a range of applications across different work environments. The following are the most common ways in which you can use a telehandler:
Height-Related Tasks
Affixed to a telehandler is an attachment called a platform.
While it isn't as popular as the other attachments, it is incredible at helping to gain rapid access to elevated and high-risk work locations that are difficult to reach.
Once this platform is fastened to the telehandler, the machine completes all of the tasks required by a telescopic boom lift.
The telehandler is more than capable of securely supporting workers' weight, allowing them to board and be hoisted into position.
This eliminates the need for labour-intensive scaffold erection and saves on the cost of renting numerous pieces of equipment.
Lifting Objects
Although evident, this is the primary purpose of telehandlers and the reason for which they are most frequently used.
But given the range of items that may be handled in proportion to lift height and lift capability, telehandlers are preferable to forklifts.
Traditional fork tines are the most often utilized lifting attachments in the construction sector.
You can use them to lift loads, hoist palletized cargo, concrete blocks, wood, industrial plumbing, and a wide variety of other building supplies.
Moving Heavy Loads
Telehandlers are completely capable of transferring the same goods across the job site due to their capacity to hoist hefty loads.
A telehandler's actual lifting capability will vary on its size and type, although they are recognized for having the best lift capacity across the board.
They are ideal for a variety of ground types, from highways and paved areas to uneven terrain and soft or wet ground, thanks to their huge rubber tires.
Waste Clearance
Telehandlers are frequently employed in the waste management industry to quickly and safely dispose of massive volumes of rubbish.
A telehandler's variety of attachments allows for quick changeover between different sorts of dirt.
Thanks to their enclosed cabs, even toxic waste may be transported without running the risk of coming into touch with the operator.
You may use the equipment on building sites to quickly remove and transfer materials such as loose sand or broken stones onto high-sided trailers or open-backed trucks for disposal.
Telehandlers may also be used in agricultural operations to remove logs, fallen trees, boulders, and even loose or moist soil from inaccessible areas.
Digging
A typical Telehandler is mostly recognized as lifting equipment, but it also has digging capabilities that are frequently disregarded.
The telescopic boom may be swiftly transformed into a digging arm by attaching a toothed bucket.
The boom can raise the entire bucket up and away thanks to its three hydraulic functions, which also enable it to extend and tilt the bucket attachment down and back up.
This allows the bucket to readily penetrate sand, dirt, or other obstructions, scoop it out, and then move it out of the way for disposal.
Easy Telehandler Hire in Adelaide
How frequently you plan to utilize telehandlers will determine whether you buy any.
In other words, if someone only plans to use the device seasonally, they shouldn't buy it, right?
If you fall in the category of one-time users, we could give you a fair hiring deal at ezyuphire.
Apart from the affordability of our deals, we exclusively deal with the top brands in the industry. We also stock cherry pickers for hire, Lighting towers for hire, and knuckle booms for hire.
You can trust that our equipment will operate effectively to give you the desired result.